Why does chiropractic care work for so many different conditions?
The nerve chart below can help explain why.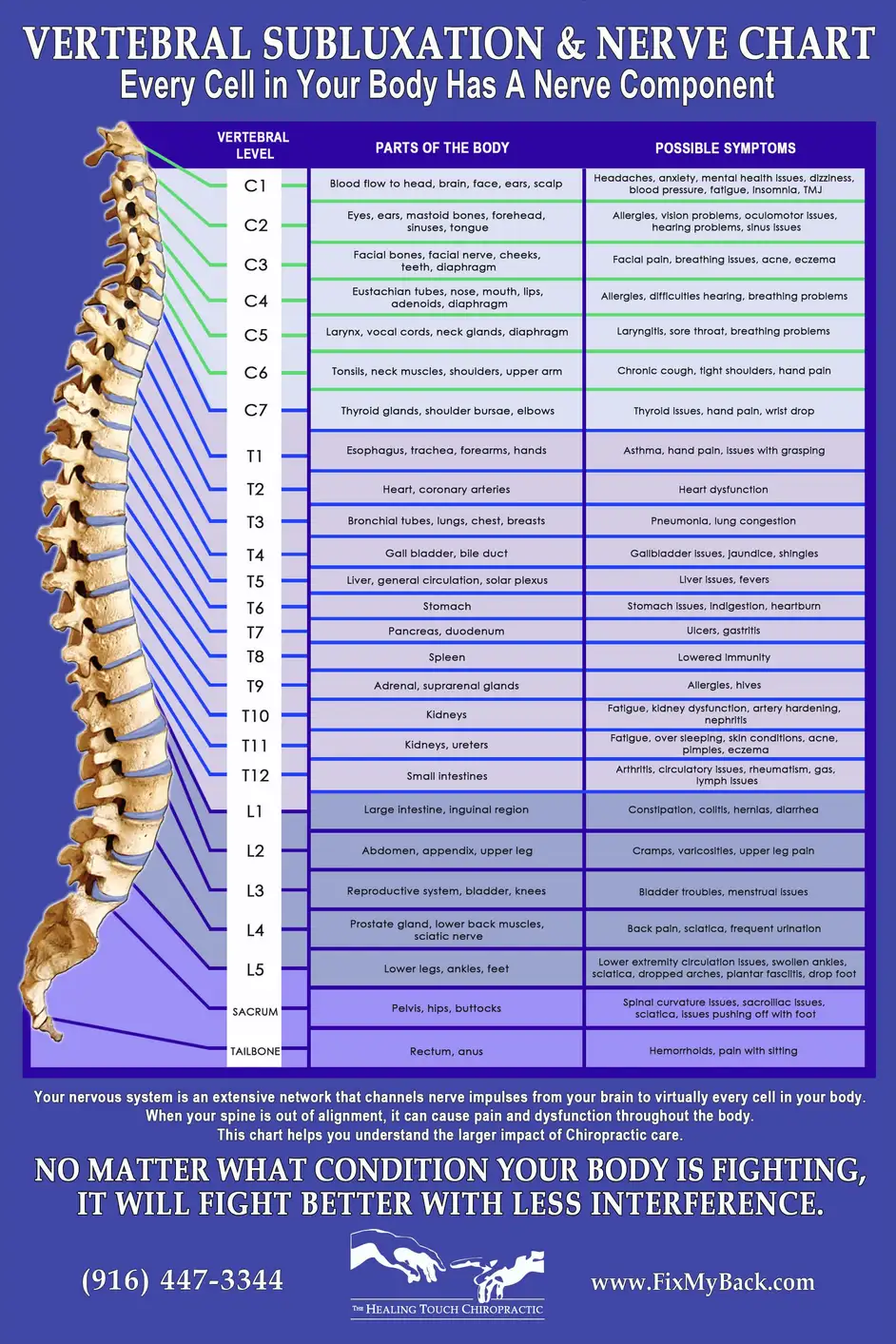 Call us today at (916) 447-3344
What we know is the brain controls every function in the human body through communication that occurs between the brain and the body. This communication occurs along the nerves which pass from the brain, down the spine, and out between the vertebrae, or bones of the spine.
When subluxations occur, misalignment's of the spine, they result in interference of the communication between the brain and this body. This can obviously result in dysfunction. The body simply works better with less interference. So, your chiropractors, at the Healing Touch Chiropractic, located in Midtown Sacramento, are highly trained in how to identify subluxations, misalignment's of the spine, and correct them through spinal manipulation, adjustments, exercise, and physical rehabilitation.
The chart below helps explain why chiropractic is so famous for helping so many different conditions found in the body. This chart identifies each vertebral level, the part of the body the nerves at that level innervate, and just a few of the many symptoms that can occur with subluxations at that level.
Obviously, headaches, neck pain, middle back pain, and lower back pain can occur anytime there are subluxations or vertebrae out of alignment pinching nerves. But take a look at all the other symptoms that may indicate an alignment problem. The feel free to give us a call to see if chiropractic care is right for you.
No matter what your concerns, we invite you to call our Midtown Sacramento Chiropractic Office, The Healing Touch Chiropractic, at (916) 447-3344 for a FREE consultation regarding your condition. We have our own free parking just outside our door and convenient office hours Monday through Friday from 9 am to 6 pm. At our office, the consultation is always FREE. So, there is no obligation to sit down with one of our doctors and discuss your specific chiropractic questions with zero obligations. Please do not hesitate to call and set up a consultation today.